About
The idea of the red room was born when we were thinking of how to motivate ourselves through our new lifestyle enforced by the pandemic. We thought of creating a simple replica of our studying and working environment in our homes where we spend more that 10 hours per day. Since we spend many hours in the same environment, it becomes harder to have inspirations for our tasks to solve. Thus we tried to change our average rooms into a room which we would normally be hesitant to create in real, a room covered with red walls. Red color is said to be raising the energy level in a room, evoking feelings of excitement and passion, and with this new environment, we hope to escape from our monotonious days.
---
Building the Scene
Table Objects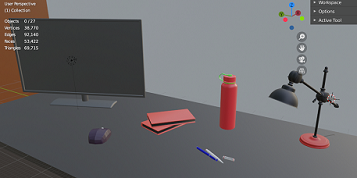 We started by designing how a work table should be and what type of objects it should have on top of it. For this reason, we have selected free 3D models of a monitor, a mouse, notebooks, pens and a table lamp which are the usual objects we have. We have also added a bottle considering our daily needs. The objects were located on a free 3D desk model in a realistic way. However, rather than using the available materials, we decided to create and apply our own material combinations on the loaded objects. We have also decided to apply a realistic scene on the monitor and some studying papers on the table.
Work Corner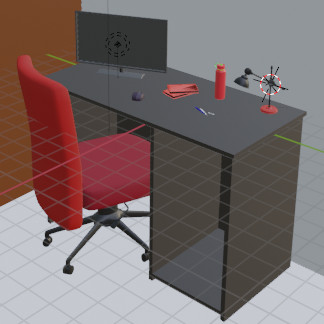 The objects were located on a free 3D desk model in a realistic way. To complete the work corner, we have also loaded a free 3D simple chair model. We have positioned the table to look like in the corner of a room with the chair properly aligned with it. We decided to create and apply our own selection of materials and textures for both the desk and the chair. To do so, we have simply designed the whole scene in Blender and used the material names of the importad obj files for each free 3D model. All the external object files can be found below: Object Links: Desk, Chair, Table Lamp, Monitor, Notebook, Mouse, Bottle, Pens
Lights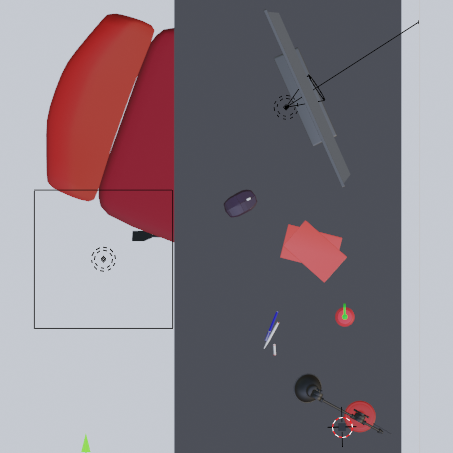 We used an area light in our scene. This not only illuminates the scene but also creates soft shadows to give it a realistic look.
Materials and Textures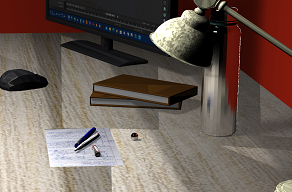 As materials for each object - Lambertian, Phong, CookTorrence, Mirror, FuzzyMirror and their combinations were used. For the desk, monitor and the paper, we used image textures and Triangle Mappers. The images used for screen and paper are our own. All the external textures can be found below: Texture Links: Wooden Texture
Highlights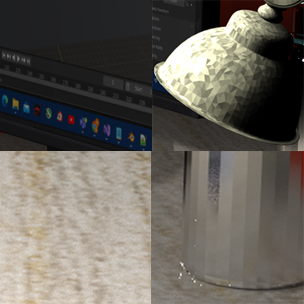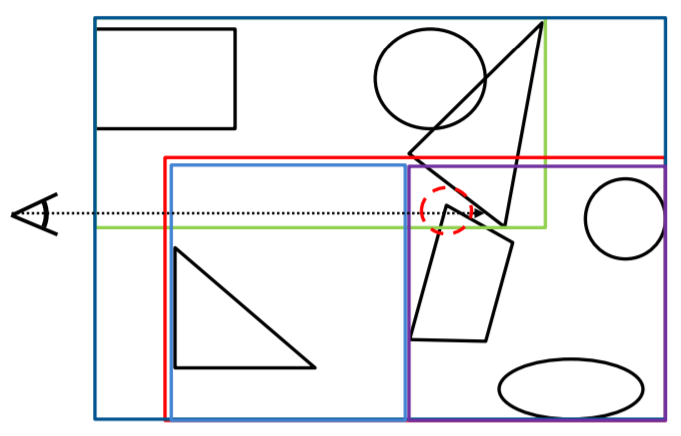 BVH with SAH rendered 1920X1080 image with 1000 samples of 53k+ primitives in 4000seconds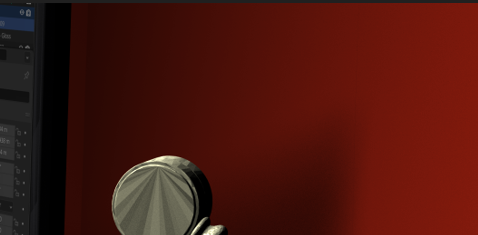 AreaLights and Soft shadows
Team: Group 6
Rahul Nittala
Beste Ekmen