Concept
Our scenes inspiration originates from the philosophy of contrast. The idea was to convey a comparison between two extremes inside the same picture, thereby challenging our artistic sense as well as the capabilities of our ray-tracer. That is why we split up the scene into two parts, with earth being the connecting center piece.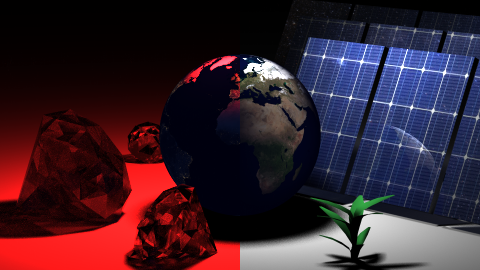 On the left side of the image we see an abstract representation of carbon fuels in form of diamonds, while the other side depicts one of the most abundant sources of renewable energy - solar energy. We see this picture as a representation of the Crossroads humanity is standing at right now - between the destructive, but lucrative use of fossil fuels and the difficult introduction of new, but regenerative energy sources.
Left side - fossil fuels
Even though diamonds look glamorous and alluring by nature, the concept they represent will lead to a destroyed environment in the long run. The effects are depicted by the use of red lights, which are naturally perceived as a sign of danger, and the emptiness of the background, signalling the unsustainability of fossil fuels. The left side of earth is plunged into darkness and even though we can see that there are lights shining in populated areas, it does not look like an earth we would like to live on.
Right side - renewable energy
In contrast, we see ordinary looking solar panels on the right side, but using them will result in a brighter and sustainable future, indicated by a well lit scene and the ongoing presence of solar panels in the background. The earth looks healthy, with the ability to nurture life, which is shown by the presence of a small plant on this side of the scene.
The reflection of earth and its surrounding stars on the solar panels indicates the future potential of this energy source to enable humanity to "reach for the stars".