Scene
The scene appears to be a simple room, but it's quite special. The Humans had to leave their planet, because the earth died at the end. The humans are simple creatures and they want to be comfortable. So the living room looks quite the same as on earth but the big difference is the view out of the window. Since they are in space now, they are lucky to have a perfect view on the two planets called "vv cephei a" and "zeta orionis". The beauty of the space is a consolation for losing the beauty of the earth.
We did both. We got meshes from the internet and created models by ourselves. The list of the references can be found below. Everything not listed was handmade and of course all of the objects were well-placed in Blender. We loaded these OBJ files into our raytracer and gave them materials. The plants were created with the help of the integrated add-on called "Sapling Tree Gen" from Blender.
Our scene needed about 8h to render and we used 20 samples. We used no textures, only the materials we had and the perlin noise function for the planets.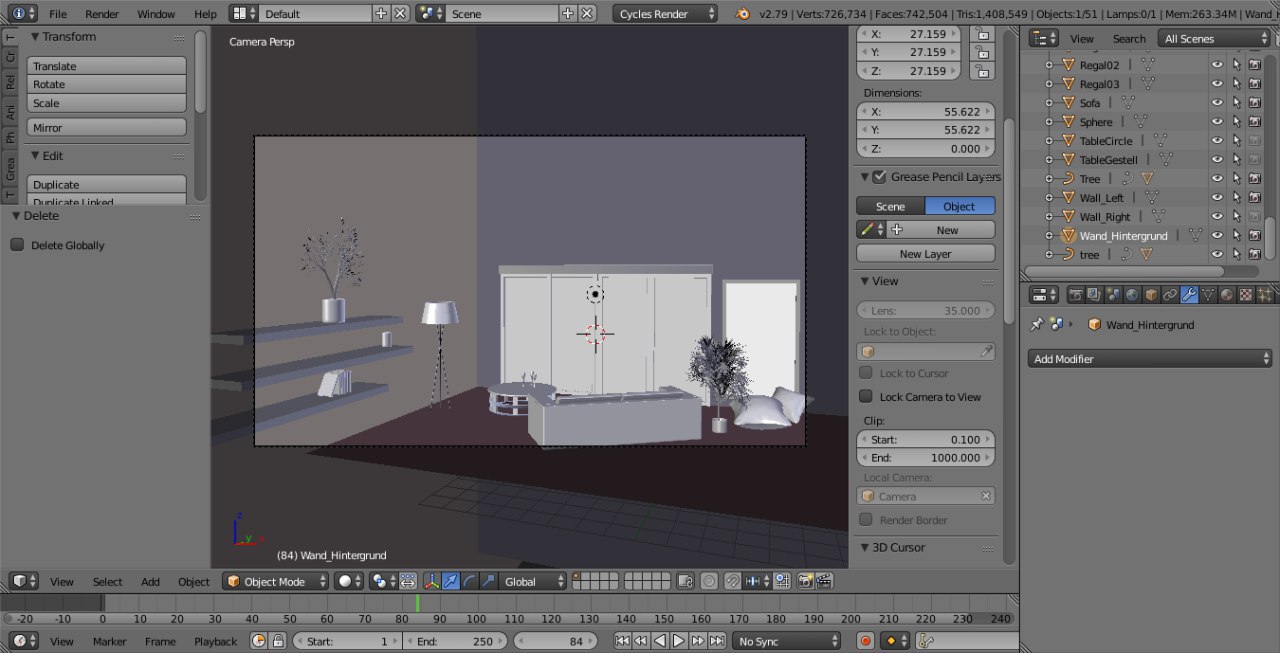 Features
We used the following techniques for our scene:
PointLights:

19 for an "indirect" lighting. Along the subceiling.
1 for each lamps. 1 from the right side of the camera to get a brighter scene.

LambertianMaterial:

Right- & left wall.
Wood of the plants.
Floor lamp and the lamp hanging from the ceiling that you can see in the mirror.
Top of the table.
All books.
Both seat pads.
The subceiling.

GlassMaterial:

The wine glass on the table.

FuzzyMirrorMaterial:

The decoration on the shelves, which is exactly in the light incidence from the floor lamp.

MirrorMaterial:

The Mirror on the right side of the window.

PhongMaterial:
CombinedMaterial:

The floor (Phong, Mirror, Lambertian)
The ceiling (Phong, Mirror, Lambertian)
The leafs of the plants (Phong, Lambertian)
The big window (Phong, Lambertian)
The table leg(s) (Phong, Lambertian)
The shelves (Phong, Lambertian)

PerlinNoise:

The two spheres. We wanted to give them a little touch to look like a real planet.
References
Website template: Start Bootstrap.
Pillows: Free3D.
Wine glasses: Free3D.
Sofa: Free3D.
Table: Free3D.
Floor lamp: Blendswap.
Books: Turbosquid.